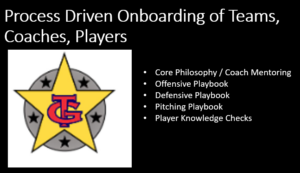 In addition to our most advanced teams, we offer developmental options for younger age groups starting at 7U-12U. The 5 Star Team Georgia junior developmental model is based on a fundamental belief that youth baseball for players typically belongs in the local community and should be focused on high level development and core fundamentals.  Often times, these teams are existing local teams and players that assimilate into our organization for assistance with developmental structure.  Top performers in certain age groups also have the opportunity to be invited to play with 5 Star National and Southeast teams in select premier events.
This model promotes playing closer to home for young players and an opportunity to get a higher level of coaching with the combination of our coaches being directly involved with instruction, training, running practices. This will also allow for stronger bonds and relationships to be built as players move into our teen programs down the road which is the ultimate goal of this youth program.
Typically, these younger teams culminate at 12U with a trip to Cooperstown, Ripken, etc. which should be centered around families, friends, community, and fantastic baseball memories.  This junior development program allows us to take players all the way through younger ages working with parent coaches, so when the 12U season is done families are not having to search for another program.
Though the program will be developmental, the goal is to have teams playing at a AAA/Major level starting at the 10-12U age groups if not earlier. This may take a couple years to do in some age groups, though we are confident based with the developmental history of our program, we will be able to achieve it sooner versus later.
The teams have paid coaches who are involved with practices, provide pitching, hitting, and skills instruction, but do not coach in games. Staff coaches offer support and training for the parent coaching staff.  This program requires volunteer coaches who will coach any games that a team plays through 12U.
At 13U and older, we will always provide paid coaches for all events and advanced players will have the option of playing on our National, Scout, Prime, etc. teams depending on skill level (concurrently in some cases). Coaches must be approved by 5 Star (TGBA / VELO) and submit information for a background check.  We will provide paid coaching for games as an option if desired by a specific youth team 12 or younger.
If a player or your team would like to join us our organization at 7u - 12u, contact Chris McRaney @ tgbaseball23@hotmail.com  or Randy Phares @ rpharesteamga@gmail.com for additional information.